Let's face a fact: No matter how established, well-known, and credible the business is if it isn't secure, then everything is at stake. Now think if this business has uniformed security as well. This makes it safe and reliable for you, your employees, and visitors. Not only for businesses, but uniformed security guards also provide deterrence against crime in residential sectors as well.
In this article, you'll get an insight into how uniformed security guards can make your place safe and secure, even if they are unarmed.
Uniformed Security- An Overview
The security guards who wear uniforms are trained to tackle difficult security situations. Besides, who doesn't get impressed by the sight of uniformed security?
So just by the presence of a uniform security officer, you can deter criminals. They give a sense of security to the people and they can live/work in peace.
Uniformed guards are the best option to keep your people and property safe, without the use of weapons. They deter security hazards by taking appropriate steps according to the situation.
But keep in mind that only well-trained security guards with years of experience know how to keep everyone safe with their specific security guard skills and professionalism.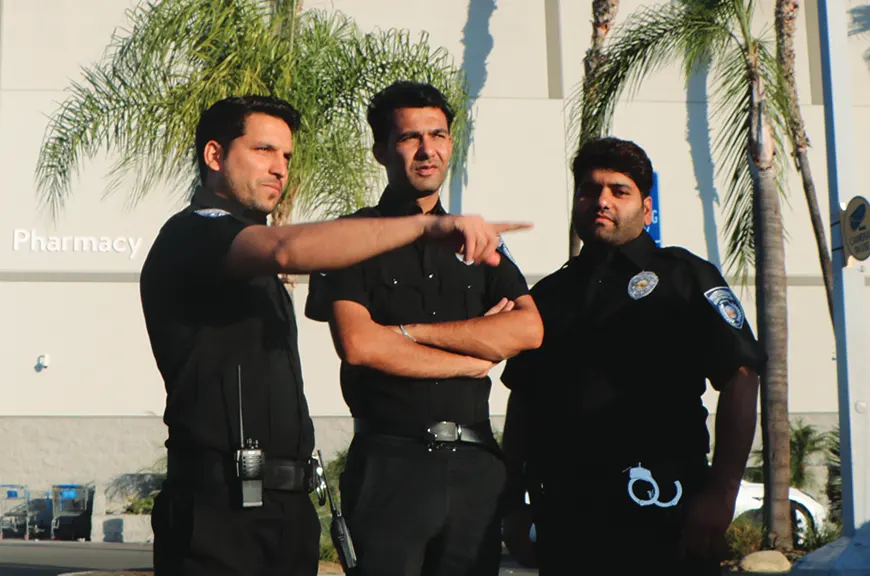 The security concerns you face every day and can be handled by uniformed guards are:
Safety of your personal property. You need professional security guards to keep an eye on your amenities and ensure no suspect enters your place and damages your property.
Fool-proof safety of commercial property with high footfall is necessary. The guards check every individual at the entrance and deter criminals and suspects on spot to save lives.
Maintaining order when performing business operations is not easy if you don't have security guards. The mismanagement or any other trouble can create violence and anger amongst the employees. So, it's necessary to hire experienced uniformed security guards for seamless business operations.
If you're transporting goods from one place to another, hiring security guards is vital to ensure the loading and unloading are done systematically and safely. They look after the surroundings to keep suspects away at all times.
The presence of professional security guards gives you a sense of peace and comfort at all times.
The uniformed guards are a perfect option to tackle all the abovementioned situations. Again, you must hire professional and licensed guards for maximum safety and reliability.
Benefits of Hiring Uniformed Security Guards
Below are some of the benefits that you get from hiring uniformed and unarmed security guard services in San Diego:
Reduce Liability
Safeguard your people and property with uniformed security. The guards are not only trained to keep away suspects but also know what to do in case of a security emergency. So they make sure your assets remain safe.
Protect Employees
Uniformed guards protect employees, especially during night shifts and transportation. Their mere sight keeps the environment secure. They are also trained to take action if something happens or any employee causes trouble.
Crime Deterrence
Criminals think twice if they see a uniformed guard protecting a building. This minimizes the chance of security threats and provides a sense of security to people.
Secure Background
Guards with uniforms are licensed and they come from a transparent background. The security companies hire only those guards who weren't involved in any criminal activity in their past life. So when you hire a professional, you know they've come from a transparent background.
Peace of Mind
Last but not least, uniformed guards give you peace of kind as you know that someone is experienced and professional in securing your place and people in the best possible way.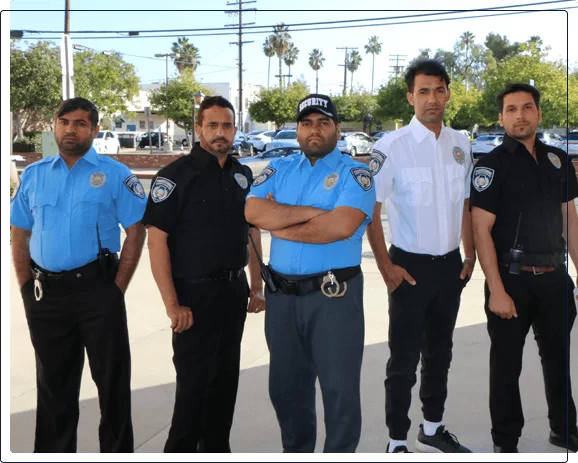 Businesses That Need Uniform Security Services
Banks
Vigilant uniformed security guards protect banks during and after working hours. It's their duty to safeguard the employees, customers, and assets.
Apartment Complexs
The uniformed security guards provide 24/7 security in the residential area by keeping an eye on the individuals entering the complex and handling security situations professionally.
Restaurant/Bars
Uniformed guards are best to provide a safe environment to the people in the restaurant by checking staff and individuals entering the premises.
Special Events
Whether it's an official meetup or a private get-together, professional security guards will make sure your event goes smoothly without any security loopholes.
Warehouse and Industries
It's vital to protect your employees and property in the industrial area. For this, you should hire uniformed security services to provide you with a strategic security plan and safeguard the site.
Commercial Office Complex
Trained, uniformed security officers protect your commercial complex from criminal activities and violence. The security guards take appropriate steps to maintain peace in the area.
Senior and Retirement Housing Communities
You can hire unarmed and uniformed guards to protect the housing communities. The security guards check the vehicles and individuals entering the premises.
Residential-Single Family
Take the services of uniformed guards to protect the housing communities. The security guards check the vehicles and individuals entering the premises.
Retail Stores
The uniformed security services are well-suited for retail shops to ensure the safety of employees and customers alike.
Construction Sites
Professional security guards are trained to protect your construction site and make sure the construction process goes smoothly, day and night.
Hotels
Make your hotel security fool-proof by hiring uniformed security officers who will scrutinize everyone at the entrance and perform foot patrolling when needed.
Shopping Centers
24/7 surveillance and security guards are needed for shopping centers. You can also ask for vehicle patrolling of the center's parking lot, exterior, and interior for added security, depending upon your security needs.
Commercial Fire Watch
Uniformed security guards also provide fire watch services to prevent fire hazards by taking appropriate measures and watching for fire outbreaks.
Uniformed Security Vs Plain Clothes Security
Uniformed security protects industries, businesses, residential sectors, and commercial areas as their sight is enough to keep criminals away.
But plainclothes security is needed in events where uniformed security guards make people/guests uncomfortable. They're also needed when security guards need to mask their identity and protect VIPs.
Hire Top-notch Uniformed Security Services in California
Need to hire uniformed guards for your home or business? Get services from Professional Security Guard Inc., one of the top Security guard services company in san diego, California and you'll never regret it.
We're an unarmed security guard company with experience and skill. Our uniformed security guards are available 24/7 to protect you and your property in the best possible way.
This is how you will get maximum protection against security hazards:
Our security guards are trained to patrol the area on foot. They walk around continuously (if needed) to monitor their surroundings.
If needed, we provide a vehicle patrol team with security guards who maintain their positions while security officials scrutinize the area.
Our security guards are the best to handle crowds and maintain discipline at all costs. The individuals causing trouble are dispersed and appropriate action is taken when needed.
If you have a building or amenity that needs to be locked and unlocked at certain times, then our unarmed security guards can do it for you. The building is opened and closed responsibly when needed, making sure the property remains safe.
The security guards at Professional security Guard Inc are trained to respond quickly to emergencies. They know when to detain a person physically and when to call the law enforcement team.
You can hire our unarmed and uniformed security team for facility assessment. Our guards are educated to scrutinize the facility and make sure it's safe for everyone.
Our security guards are just a call away to make your site surveys safe. The guards keep away suspicious people and notice activities that can result in a security hazard.
Our recruitment process is transparent and efficient to make sure you get skilled individuals who know their job well. We select security guards by analyzing their background and evaluating them physically. After that, they are trained to manage security and deter crimes without using weapons.