Having a security guard license is a legal requirement for working as a security guard in California and, in general, worldwide. A security guard license proves that you have completed all the requirements for becoming a security guard and are eligible for providing security guard services in San Diego or any other city in California. Like all other legal documents, a security guard license has an expiry date and has to be replaced after a specific time.
However, many security guards don't know how to renew their security guard licenses and often ask, "How to renew my security guard license?" Today, we'll provide complete details on renewing your security guard license, from fulfilling all the requirements to filling out the application form so that you can continue to protect and safeguard others from potential dangers.
Requirements For Security Guard License
Before signing the security guard license renewal application, you must fulfill all the requirements for getting a guard license. Different states have different requirements, but the general ones which most of the states, including California, follow include:
You must be 18 years or above of age.
You must complete fingerprint database.
You must have a clean criminal record.
You must have a valid ID card issued by the state.
You must have completed basic security guard training in addition to other types of training for security guards.
Submit an authentic application containing all your personal and professional details.
Security Guard License Renewal Application
Once you're sure you meet all the requirements of becoming a security guard, you need to fill out the application to renew your security guard license. In this application, the state asks about your personal and work-related details to know you better and record your job submission.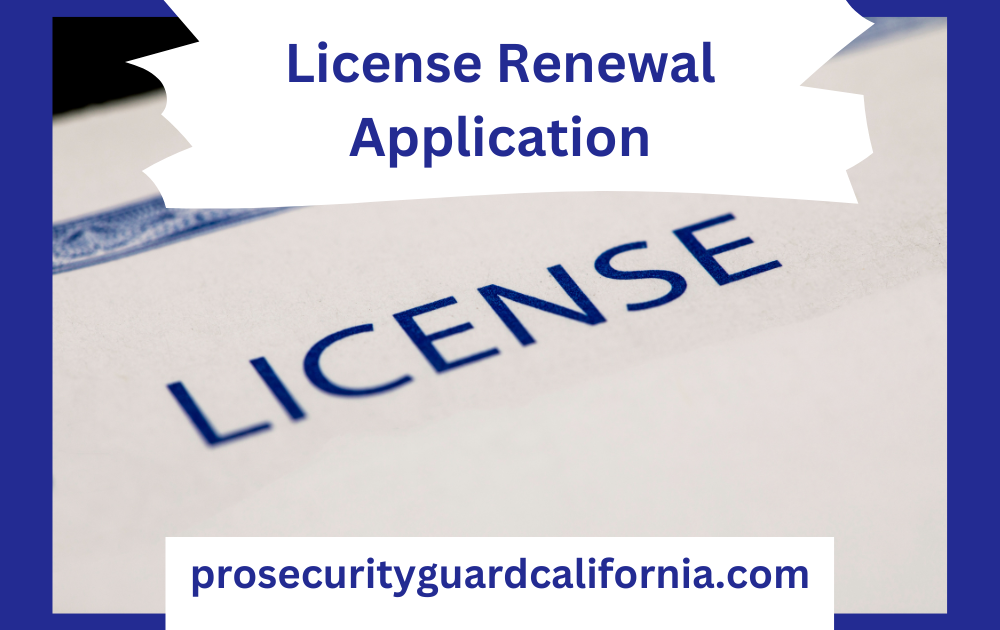 This application also has some pre-requisite items the guard must provide so that the authorities can check them and consider his application for license removal. Some of the most important of these items and the integral parts of a renewal application are:
ID documentation, including the address, to ensure that you're a resident of the state.
Previous license number and card. Follow our how do I get my guard card guide to know the procedure of getting a guard card If you don't own one previously.
Contact Info
Recent passport-size photographs
The required payment for the application processing
How To Renew My Security Guard License? The Procedure
Once you have made sure that you fulfill all the requirements for renewing the license and that you have completed all the prerequisites, you can apply for the renewal. You must submit the renewal application to the relevant office so that they can process your info and issue you a new license. In California, the main office for these purposes is the Board Of Security And Investigative Services, but different states can have different offices.
You can visit any of these offices for the renewal process. You must take the required forms and the application with you. Online application methods are also functional these days, where you fill in all your data, and pay the fee through an online transaction to start the renewal process. This process is much easier since you can apply for the license renewal from the comfort of your home and can save yourself from the hassle of visiting the office.
Types Of Security Guard Licenses
There are two main types of security guard licenses, and they differ based on the ability of the guards to carry firearms with them. One is the class D security license, and the other is the class G security license. The guards get their class D license before getting the class G license.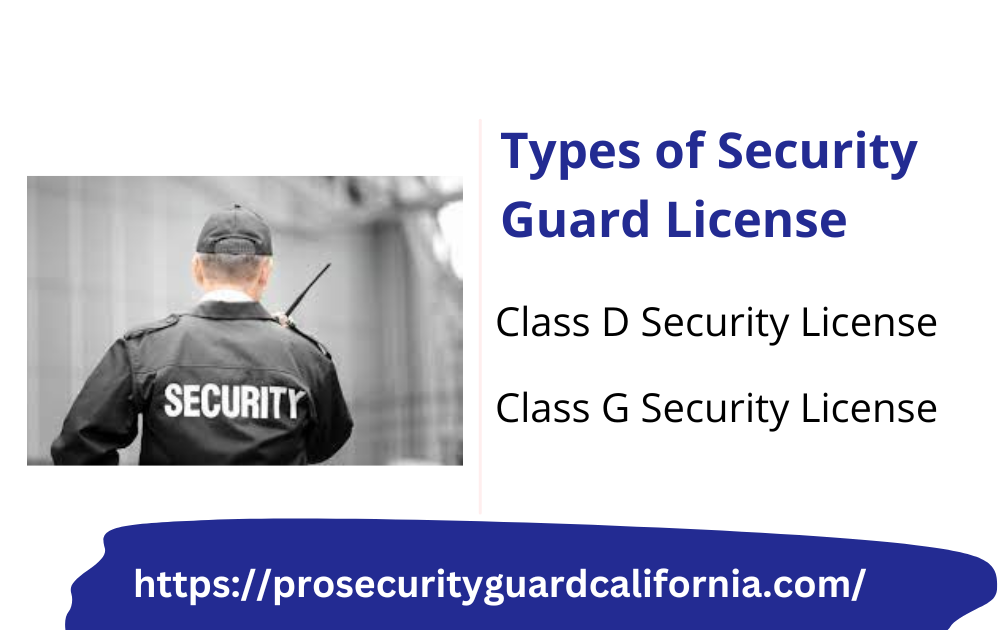 Class D Security License
A class D security license means that the guards have completed their basic security training and can act as security guards for a company or an individual without the power to use firearms. These guards have completed all the hours needed to classify them as security guards and can apply for security jobs.
These jobs include providing security to schools, malls, buildings, hospitals, and other public places. Guards with class D licenses are not authorized to use firearms; thus, they can not carry any at their job site. Their main objective is to locate contraband or suspicious activity and alert higher authorities. They can also choose to engage if the threat is minimal.
These guards perform some of the same duties as those carrying firearms and can prevent any threat from escalating and becoming a danger to the public. Thus the importance of these security guards can not be ignored.
Class G Security License
Class G license is of a higher level than the class D one, and only the guards having a class D license can apply for this higher one. A class G license means that the guards have not only completed their basic training to become security guards but have also gone through firearm training so as to enable them to carry guns on the job. Class G license also means that the guard is fully aware of the legal conditions to use the gun and will be fully responsible for the legal consequences.
Having a class G security license comes with some perks. Guards with these licenses are more experienced and professional, and the chances of getting higher salaries are greater. In addition to these increased salaries, their jobs are more exciting as they offer more working ground instead of just standing all day and monitoring people. These guards can directly engage in action and can neutralize extremely dangerous threats.
However, these perks come with the responsibility of safely handling the firearm, which can be a weapon of great danger and can put many in dire conditions.
FAQs
Can I renew my security guard license online?
Yes, you can upgrade your security guard license online. You have to visit the website of your state's licensing department, fill in all the details, pay the amount online, and the department will send you the license to your address.
How long can your security guard license be expired?
Different states have different laws concerning the expiry of security guard licenses, but in many of them, the common time period is two years. Your license remains valid for two years, after which you've to renew it.
What disqualifies you from getting a security guard license?
Frauding the government departments or the public, assaulting someone without any valid reason, getting involved in criminal behavior, or general misconduct with anyone while on duty are some of the things that can disqualify you from getting a security guard license.
Conclusion
We have explored everything you need to know about getting your security guard license renewed and hopefully would have answered your question, "How to renew my security guard license?" Getting your security guard license renewed is very important to allow you to perform your guard duties legally and ensure that you're updated with the job requirements. A license also informs others about your identity and job responsibilities, so everyone knows what to expect of you in any situation.