Being an event organizer, you must know about event security for everyone's safety. So, what is event security, and why do you need to hire professionals? Let's find out.
In this happening world, when we hear news of violence and crime in events daily, it's essential to safeguard your property and guests in your events. Whether it's an event organized by an educational institution or industry or a private event at your home, you should ensure a security system to make the attendees' experience safe and sound.
Read on to know everything about event security and who to hire for a professional event security system.
What Is Event Security – An Overview 
Private security guard companies provide event security in conjunction with local government operatives to make your events safe and secure.
Event security guards are trained to provide tailored security services for your events to prevent criminal activities and safety hazards.
You need professional security who will take care of your security needs with apt event security management based on your venue, the nature of guests, and suspected security threats.
What Is Event Security Management?
Private security guard companies provide event security in conjunction with local government operatives to make your events safe and secure.
Event security guards are trained to provide tailored security services for your events to prevent criminal activities and safety hazards.
Event security management includes protecting the attendees from any internal or external danger. It also entails identifying, monitoring, and reporting security-related incidents by security personnel for real-time analysis of security alerts.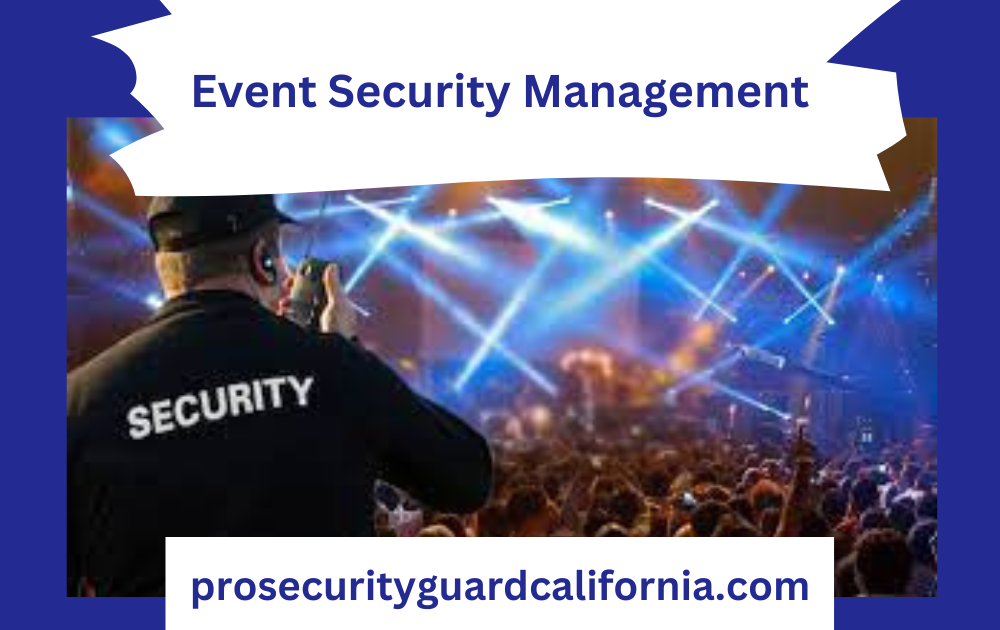 It would help if you had the most professionals who will take care of your security needs with apt management of event security based on your venue, the nature of guests, and suspected security threats.  
Importance of Event Security Management
Event security is essential to allow the event to go smoothly without any external or internal threats endangering the safety and security of the people attending the event. All over the world, countless incidents occur during events of small and large scale alike, leading to a loss in terms of lives and compensatory lawsuits. Many of these unfortunate incidents are due to security lapses from the event security management staff. One recent example is the 2017 Las Vegas shooting at the Route 91 Harvest Festival, when an active shooter killed 58 people, injured many others, and caused about $800 million in lawsuit settlements.
There is an excessive need for event security and its management to prevent losses to human lives and public property and to prevent any crowd mismanagement issues. Any medical emergency might also arise, and troubling guests can also create a nuisance for others. The responsibility of dealing with all these situations lies in the hands of the event security staff, who must apply all their knowledge and skills to make the venue as safe and risk-free as possible for the event attendees.
Event Security Management – Things to Consider
You cannot provide adequate safety and security in event management without a pre-made strategy and plan to follow. This plan should cover all the weak points gathered from previous experiences and contain complete information about various security situations and the solutions to handle them.
To make this plan work as effectively as possible, you must consider certain things beforehand to build a good strategy. It's good to have an event security planning checklist, but here are a few other important points to consider when creating an event security management plan:
Complete Knowledge Of The Venue
Complete and thorough knowledge of the venue allows you to have an idea about the weak points of the area, and also about possible hotspots for the emergence of any threat. This knowledge allows you to plan your security strategy accordingly.
You must also have a complete idea about all the access points leading in and out of the area, and you must be able to identify any porous points aside from the main access points of the venue. This allows you to take complete control of the people's access, and you can stop any threat in its tracks.
Asses Risk From Attendees
In addition to knowing about the venue, you must know the type of people you will be dealing with attending the event. This allows you to judge the risk level the attendees can pose and enables you to devise plans to overcome hurdles to the security plan due to any nuisance from the attendee's side.
This mostly happens in controversial rallies or gatherings, where the speakers incite the people to do controversial acts like protests. You can deal with any such situation if you know the emotional factor of your audience.
Recognizing Security Threats
The security personnel managing your events must have the ability to analyze the security position of the event and must possess the skills to recognize any danger from a distance. The security personnel must also be able to identify possible security threats posing a danger to the people present and should react immediately to counter them.
This proactive approach allows you to counter the threats before they cause much damage. This also enables you to catch the criminals red-handed before they produce any nuisance to disrupt the general crowd.
Have The Crowd In Control
The security personnel present on the site must exert authority over the crowd whenever there is a need to do so. This is because larger crowds can pose a greater difficulty in listening to commands or follow instructions. This can pose a hurdle to dealing with any grave security situation.
The guards must be able to have the crowd in their control by whatever means necessary so that they can guide them during the event and can allow them to relocate to safe positions if any emergency arises. A little extra authority on part of the security guards can be a matter of life and death of the people in some cases.
Assess The Possibility For Any Large-Scale Attacks
The larger the event, the greater the possibility of anything going wrong and putting the lives of people in danger. Thus it is essential to assess the possibility of large-scale attacks disrupting the event and threatening the people's security. This allows the security personnel to prepare themselves ahead of time, and identify the advent of these attacks to stop them before it becomes too late.
Close Communication Between Guards
The security guards present on-site and those in charge of the security feed should have close communication. On-site guards should also use modern communication devices to contact each other over long ranges and alert the whole team if they spot any danger.
If any third-party security company is present on-site to help with the security, the guards should also communicate closely with it. This allows the whole staff to be mindful of the events at the venue, and they can respond effectively to deal with them.
Fire And Power Failure Management At The Event
Fire can occrure in any part of the venue due to several factors. Small-scale fires are easy to handle, but when they happen on a large scale, they become a source of extreme danger for people. Toxic fumes rising from big fires serve to suffocate the people, and thus fire can passively pose a threat to their lives.
Power failure is also hazardous in the same way. These failures can be very detrimental for events happening during nighttime as they can create a completely dark scene, screening any unfortunate event from sight. Dealing with these events becomes very difficult for the guards, and criminals can take advantage of this opportunity for their ill motives.
Thus, proper protocols must be devised to prevent these conditions and control them if they present themselves through any unfortunate events.
Medical Emergencies
Medical emergencies can happen to many people, and in big, crowded events, these emergencies can also be detrimental to their lives. This is because large crowds can make it difficult for the medical staff to get to the suffering individuals, and sometimes the person has already expired when they get there.
Thus proper steps must be taken to reach medical emergency cases as fast as possible. Crowd control also becomes important in this case because the guards might need to disperse the crowd to allow the medical staff to reach the suffering people.
Bad Weather Management
Bad weather can become a nuisance for many people, especially in outdoor events. There is no way to prevent this from happening. Some steps, however, the security personnel can take to minimize any disturbance from bad weather. The staff must have some alternative portable hangers and marquees and should guide the people to them, and they must find some alternative indoor solutions to continue the event there.
Having prior knowledge about lousy weather can prevent all this. Thus the staff must have complete detail of the weather forecast before deciding the event date.
Turn Downs At the Last Minute
Some unfortunate incidents may occur, and the key speakers or celebrities might pull out from the event at the last minute. If this happens, the event staff must have some alternate arrangements prepared to minimize public humiliation. They must be able to provide alternative sources of entertainment and other hosts to the people.
The event management company must consider all these points when managing the security for private events and large events like concerts and award shows.
Security At Events – Is it Worth It?
Yes! There is no second opinion on that.
Just recently, we heard the news of several people getting injured due to a shooting at Gilroy Garlic Festival in California. This and several other incidents call for flawless security at events to safeguard guests in a professional way.
If you're arranging an event or are a professional event organizer, then it's your duty to hire professional event security guards to prevent all sorts of security hazards.
Which Events Need Event Security by Professionals?
Wondering whether your event needs security guards and an event security system? Know about the events that surely need professional event security services and why:
Concert Events
Concert Event security is essential to handle the crowd and keep an eye on all the happenings. The security officers are skilled in communicating well with the hosts and record every activity in the concert. Event security is necessary to take care of all your security needs in this era of happenings—from parking lot security to entrance gate security and security within the crowd and around the stage. 
Private Party Security
Private Party security is crucial for making your private parties secure for yourself and your guests. The event security team inspects every guest closely and monitors the staff. Moreover, the security guards also provide added security to the VIP guests at your party. You can hire private security guards to make your parties safe and ensure everyone returns home feeling enjoyed and entertained. 
Wedding Security
The event security team makes your weddings memorable and safe for everyone. The security guards are trained to manage security in the parking lot and the wedding area. Hire wedding security guards because they'll provide you with a report of any suspicious activity or hazard to take appropriate measures on time.
Corporate Event Security
Make your corporate events safe through professional corporate event security. You can plan your event with peace of mind by handing the security to professional event security guards. Corporate event security includes patrol services, entrance security, parking lot security, and security during the event. Continuous monitoring and efficient scrutiny will protect your guests from potential security risks.
Types of Event Security Management Services
Your events need to be secure in every way. You can take tailored event security services based on your security needs. You've learned about what is security management for events; now let's talk about its types.
Staffing Services
This includes ticket attendants, seating assistants, and customer service agents. All these event security officers are trained to ensure they keep your event safe from suspects and criminals.
Parking Management
The skilled event security guards ensure your event's parking area remains safe. It includes checking every vehicle entering and leaving the parking lot and reporting any suspect immediately.
Guest Security Checks
You can opt for this event security service to ensure no suspect in your guests. The guest security check officers have great communication skills, inspecting your guests at check-ins respectfully but cautiously.
VIP & Executive Protection
The event security guards also make sure your VIP guests remain safe throughout. The guards keep a close eye on the surroundings and walk along with your executive guests to keep them safe.
Mobile Patrols & Canine Security
Continuous patrolling around the boundary is done to keep suspects away and observe all the happenings going on. The trained security guards record every patrol detail and report to the authorities if needed.
Employee & Volunteer Supervision
It's important to keep an eye on your staff to maintain an event's security. The event security services also include supervising your employees or volunteers working during the event. It also includes a brief that is given to them to handle security emergencies professionally.
How is Event Security Done To Minimize Security Hazards?
Follow the following steps make your events safe in every possible way:  
The first step is to develop a strategic security plan to manage the security of the event throughout and safeguard the lives of your guests and staff
Surveillance in the area for any suspicious activity
Keeping a close eye on the entrance and making sure to stop any unwanted individuals from coming in
Make sure there is only one entry point and check each individual before allowing them to join in
Observing the individuals in the registration line
Identifying potential risks promptly and taking appropriate action when needed
Controlling the crowd/mob to secure the lives of all individuals. Our security guards are trained to counter violence professionally and handle any security situation throughout the event.
The guests are checked for any weapons and unnecessary items they might carry along. This is done at the entrance point.
Monitoring the staff and guests throughout the event
Taking prompt action for troublesome individuals during the event
Reporting any suspicious behavior to the organizers without a delay
What To Look For in The Best Event Security Services
Quality Insured Event Security guards
Always hire licensed event security guards trained to handle event security and minimize security risks greatly. The professional event security guards are vigilant, trained to take prompt actions, skilled to use weapons (if needed), and know how to evacuate the crowd in emergencies.
24 Hour Event Security Services
You should hire full-time event security services to cater to all your security needs. From pre-event to when guests arrive and then wrap up, the event security services will ensure everybody goes home safely. You will get full event security services no matter at what time the event is going to happen.
Customized Event Security Services
You don't just want event security on the spot but you need proper planning and execution as well. So, hire tailored event security services that include strategic security plans, efficient execution, and taking quick actions when required for fool-proof security.
Who To Hire For Event Security Management?
Always opt for a company that provides all types of security guard services and has good reputation.
You'll have peace of mind knowing professionals will make your event safe. You don't have to worry about who to hire and train. Their team will take care of everything related to your event
Any company you hire should help you with the following: 
Make a strategic security plan that will help organize the security system. They will position their security guards as entry and exit points and make a plan to help evacuate the guests in an emergency.
Make sure all people entering your event place are your guests. They match the IDs of every individual with the data given by you. Also, all the guests are checked at entry points.
Keep a close eye on the happenings during the event and record/report susceptible activities.
Take prompt action when required. Their event security guards should have taken special intervention training and should have great communication skills to make sure they can handle any situation professionally. 
The security plan and execution depend upon the event's nature and the associated security risks.
Alternatively if you are planning an event in San Diego then you can consult with us. We provide full range of security guard services in San Diego and you can be sure that you will get full event security according to your needs. 
FAQs
What is the primary purpose of event security management?
The primary purpose of managing event security is to protect the lives of the people present in the event from any danger, and to make the event go as smoothly and as safely as possible. 
The Bottom Line
We have explained everything you need to know about event security and role of security in event and hopefully have answered the question, "What is event security management?" for you. Event security is essential to allow the events' smooth progression and protect the attendees from any danger. The management staff must use pre-planned strategies to deal with any situation, and the organizing people on their part must also choose the companies offering the best event security services.