Threats in the world are increasing day by day, and the demand for armed security guards is on the rise. In the wake of these increasing threats, there is a greater need for security guards to be armed. Guards, however, can not operate these firearms without having a permit to do so. An armed security guard license acts as a permit to allow the guards to use firearms at their service.
But how to get armed security guard license to allow the guards to use firearms? Today we will explore the requirements to get this license, as well as the training required by the guards to qualify themselves for armed security services.
Who Needs To Get Armed Security Guard License?
All security guards who wish to work as armed security guards need an armed security guard license. Without this license, the guards are not permitted to use their firearms or will not be eligible for an armed security guard job. If they do, they might get involved in serious legal trouble and can be sued by the victims.
Minimum Requirements To Get Armed Security License
The exact requirements to get an armed security license vary in different states, but some of the common ones in each state include:
Being 18 years of age. In some states, however, the minimum age to use firearms is 21 years, in which case, you need to follow this age guideline.
Having armed security training. You have to complete the basic security training first before applying for armed security training.
Getting a high school diploma
Being eligible to work in the US
Clean criminal and drug-use record
Some states are pretty strict on these rules and need you to comply with every one of these to allow you to get a security guard's license. Some other states also follow a pretty lax attitude when giving armed security licenses. But to be on the safe side, you must make sure that you comply with all these rules and regulations.
Training Needed To Get An Armed Security Guard License
To apply for an armed security guard license, the guards need to follow certain training protocols and have all types of training needed for security guards, and after the successful completion of each training session, they can become eligible to get firearm use licenses.
There are 2 main types of these training that the guards must complete before applying for firearm licenses:
Unarmed Security Guard Training
Unarmed security guard training is basically essential for all security guards to complete, regardless of the job they are applying for. This training equips the guards with all the basic skills they are going to need on the job and ensures that they are up to par with all combat techniques and protective maneuvers.
This training is also a prerequisite to getting into armed security. The guards must complete this training and must produce proof of completion so that their expertise is guaranteed, and they can be trusted to handle complex security situations. You can get unarmed security guard services in san Diego at Professional Security Guard Company Inc.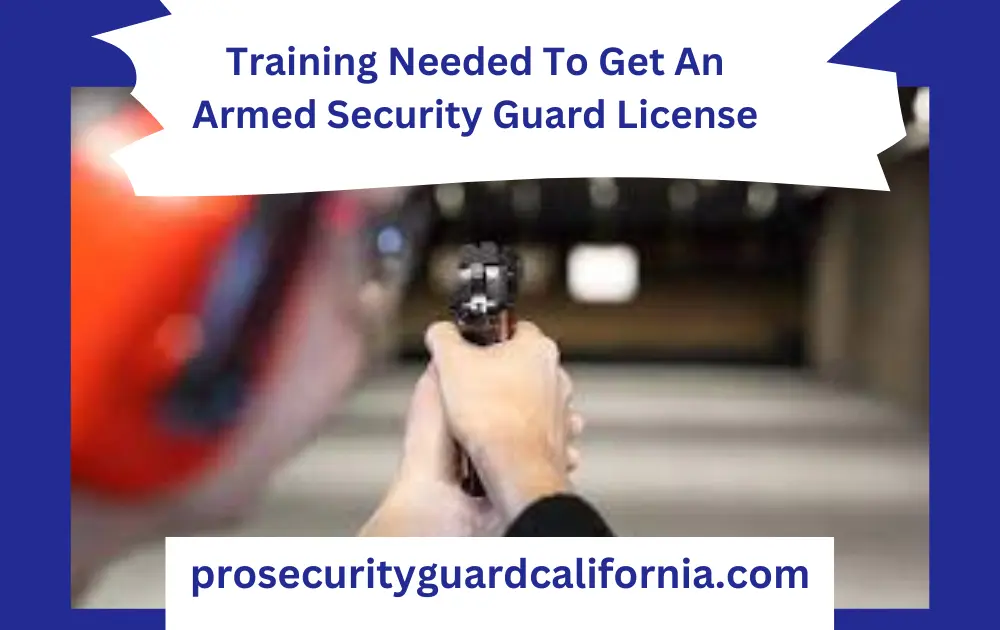 Firearms Security Training
Once the guards have completed their basic unarmed training, they can then apply for firearms security training, in which they get the required guidance and supervision to allow them to effectively use their firearms to protect themselves and others around them. This training also equips the guards with legal knowledge of firearm use and ensures that the guards know all the gun use protocols.
Firearms security training is essential to get an armed security license, as it proves that the guards know their way around guns and can use them responsibly. Without this training, the guards can not get armed security licenses as there will be no proof of their firearm use knowledge.
How To Get Armed Security Guard License – Simple Steps
Just like the requirements to get armed security licenses, the exact steps also vary with each state. Some of the common ones which guards follow in every state to get their licenses to include:
Fulfilling all the requirements to get an armed security license.
Completing the basic as well as the firearm security training.
Submitting an application to the concerned authority. This can be by physically visiting the office, by email, or through an online process.
If you are applying by mail, you need to send the required documents to the given mailing address. If you are applying online, you need to upload the documents to the company website.
Submitting the transaction fee at the site or through an online transaction.
Waiting for the verification process, and the issue of the license.
How To Get Armed Security Guard License In California
In California, the security company handling the armed security guard licenses is the Beaureu Of Security And Investigative Services (BSIS). In order to get your armed security license, you need to fulfill the requirements mandated by the authority and follow their rules and regulations to become eligible. Once you fulfill their requirements, you need to follow the following steps:
Pass an 8-hour security guard card course
Fill out the application provided on the BSIS site.
Pay the application fee
Upload the required documents on the site. These include fingerprint data and background data documents.
Pay the document verification fee
Wait for the verification and arrival of the card.
You can also read: How to get my guard card Guide.
California Guard Card Requirements
In California, BSIS mandates the guards complete the following requirements before applying for an armed security license:
Have a California-issued security guard card.
Have a total of 40 hours of basic training
Keep up with the annual 8 hours of mandatory training.
If your guard card has expired you can read our guide about "how to renew my security guard license" to get help with your security license renewal.
FAQs
How long does it take to get a security guard license in California?
The basic training is of 40 hours. After this, the application process might take anywhere between 60 to about 75 days since the issuing authority needs to get the verification done and complete the background checks of the guards.
How much does a guard card cost in California?
The initial application to get the guard card costs about $100 in California.
What disqualifies you from getting a Guard Card in California?
Committing felonies on the job, using unsolicited violence, as well as getting involved in drug abuse are some of the things that disqualify you from getting a guard card.
Conclusion
An armed security guard license is essential to protect the lives of people and adds an additional layer of security measures the guards can use to keep danger at bay. We have explained the whole process of how to get armed security guard license, from the requirements and steps to the types of training required. Armed security guards need to follow all the legal procedures to use firearms in protecting others. Otherwise, the weapon of safety can become a weapon of destruction.